2nd Asia-Pacific Conference on Plasma Physics
(AAPPS-DPP2018)
November 12(Monday) -17(Saturday), 2018
The Kanazawa Chamber of Commerce and Industry
& Ishikawa Prefectural Bunkyo Hall
Organized by AAPPS-DPP

About the AAPPS-DPP2018
AAPPS-DPP held 1st Asia-Pacific Conference on Plasma Physics
during 18-23, September 2017 in Chengdu, China successfully.
AAPPS-DPP decided to organize the 2nd Asia-Pacific Conference on Plasma Physics (AAPPS-DPP2018 in short) during 12-17, November 2018 in Kanazaw, Japan. This conference will be the annual plasma physics conference in Asia-Pacific region, similar to the APS-DPP and EPS-DPP conferences on plasma physics.
  AAPPS-DPP (Division of Plasma Physics, Association of Asia Pacific Physical Societies)

AAPPS-DPP2018 is a plasma physics conference under the authority of
AAPPS-DPP for scientific discussions on plasma physics.
This conference should be physics oriented and provide interdisciplinary
and in-depth discussions among and in various fields of plasma physics
and application.

Call for nomination of plenary and invited and contributed talks will be announced at AAPPS-DPP Homepage. 2018 S. Chandrasekhar Prize Laureate will give plenary and AAPPS-DPP young research award recipients will be selected among participants.
AAPPS-DPP also certifies the poster prize for significant works and presentations.

Topics of the Conference
 Scientific program will be categorized into following 8 fields.
| | |
| --- | --- |
| CD | Cross Disciplinary |
| F | Fundamental plasma |
| B | Basic plasma |
| A | Applied plasma |
| L | Laser plasma |
| S | Space & Geomag plasma |
| SA | Solar/Astro plasma |
| MF | Magnetic Fusion plasma |
Important Dates of DPP2018
Conference
November 12 to November 17
Notification of acceptance of contributed presentation
End of June
Submission of contributed presentation
April 1 to May 31
Nomination of DPP young research award
April 1 to May 31
Notification of plenary and invited speakers
Mid April

Nomination of 2018 S. Chandrasekhar Prize

January 10 to March 20
Nomination of plenary and invited speakers
January 10 to February 28
Sponsors
Join the Conference as a sponsor
For more information, please contact at aappsdpp.hp@gmail.com

National Fusion Research Institute
<![if>

<![endif]>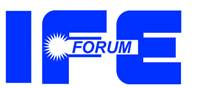 Division of Plasma Physics(AAPPS-DPP) 
 Association of Asia-Pacific Physical Societies
  copyright©2018 AAPPS-DPP all right reserved